Oct 12 2009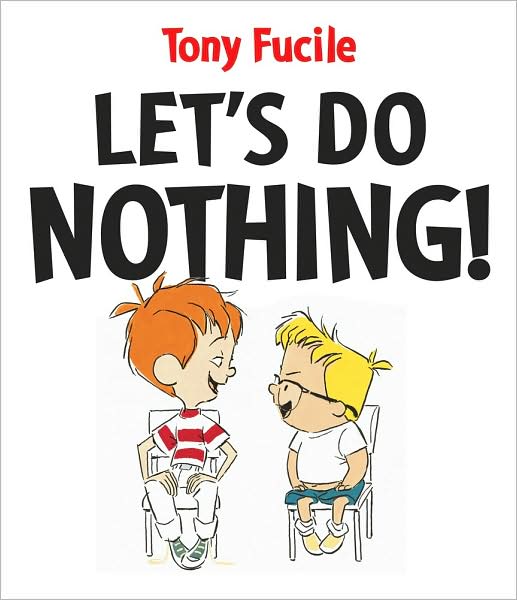 Let's Do Nothing by Tony Fucile (Candlewick, $16.99)
Is it possible for 6 year olds to ever do absolutely nothing?  Or 8 year olds?  Or 10 year olds?  That's the plan hatched by Frankie and Sal.  They've played every board game, they've read every comic book, they've painted a zillion pictures.  When it seems like they will collapse from boredom Sal gets the brilliant idea that they will do nothing–for 10 whole seconds.  Is it possible?
Fucile has been an animator and designer for cartoon films for twenty years (Little Mermaid, Lion King, Incredibles) but this is his first picture book. His animation background really shows through-he's illustrated with dark outlines and a minimal color palette.  Lots of white.  The story is what's really great, though.  The idea that two small boys will be able to sit still for 10 seconds is, well, crazy.  They try so hard, though, and ultimately come to a zen-like realization that it is impossible to ever really do nothing–there's always blinking, breathing…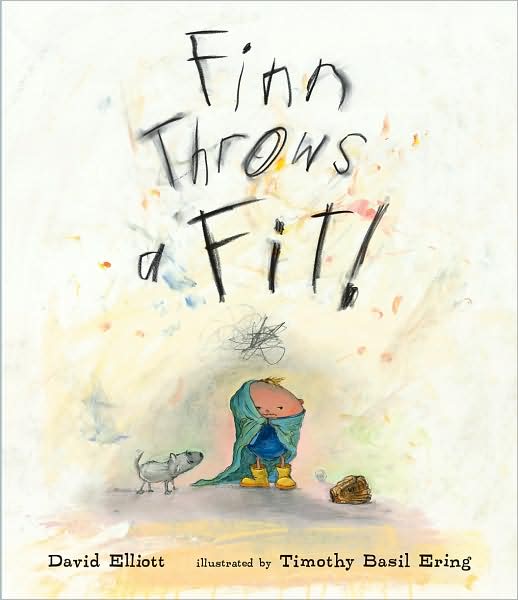 Finn Throws a Fit by David Elliott and illustrated by Timothy Basil Ering (Candlewick, $16.99)
I have a nephew who was a champion fit thrower as a child.  Champion.  Finn would give him a run for his money, though.  Finn's fit creates floods, avalanches, earthquakes (and what parent doesn't think those things are happening –or wishes they were– in the middle of the grocery store with a child pounding the pavement)?  "Today, Finn doesn't like peaches.  Today, Finn doesn't like anything" and off it goes.  It all subsides in the end, as they always do, and Finn decides–"He'd like those peaches now.  Please."
Ering is one of my favorite kids' book illustrators. He illustrated the Tale of Despereaux and Frog Belly Rat Bone.  His style is loose and colorful with Pollack-like ink flings all over the page.  Perfect for a tantrum.
No responses yet