Oct 22 2009
Thursday October 22 Reading/Signing with Richard Newman (of River Styx) for Domestic Fugues, 7:30 at Dressels, Free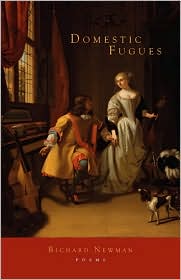 The event will feature heartwarming stew & chips, music by Pierce Crask, a cash bar, and a reading and signing by the author.  Richard Newman's readings tend to go down as the absolute funnest poetry readings you could ever attend.  He's quite the rowdy fellow.
Newman is the author of two full-length poetry collections: Borrowed Towns (Word Press, 2005) and Domestic Fugues (Steel Toe Books, 2009).  He is also the author of numerous chapbooks, including 24 Tall Boys: Dark Verse for Light Times (Snark Publishing/Firecracker Press, 2007) and Monster Gallery: 19 Terrifying and Amazing Monster Sonnets! (Snark Publishing, 2005).  His poems have appeared in Best American Poetry 2006, Boulevard, Crab Orchard Review, Poetry East, The Sun, and many other periodicals and anthologies.  The first poem from Domestic Fugues, "Old Bird," won New Letters Readers Award.  His poems have also been featured on Poetry Daily, Verse Daily, Garrison Keillor's Writer's Almanac, and Ted Kooser's American Life in Poetry.  He has been the editor of River Styx for the last 15 years.
Pierce Crask is a roots-oriented singer/songwriter/musician.  He plays nightly in the St. Louis area both as a solo artist and with his band The Falling Martins. 
Copies of the book will be available for purchase courtesy of Subterranean Books.
No responses yet