Mar 17 2012
Nick Flynn's memoir, Another Bullsh**  Night In Suck City has been adapted into a film by Focus Features. The film stars Paul Dano as Nick Flynn and Robert DeNiro as his father John. It is directed by Paul Weitz and features music from Badly Drawn Boy.  Julianne Moore co-stars and Flynn himself has a brief cameo in the film.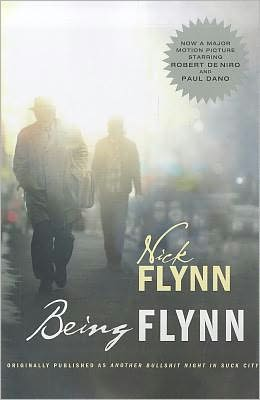 You can read the Rolling Stone review of the film here: http://www.rollingstone.com/movies/reviews/being-flynn-20120302
Nick Flynn is a diverse poet, essayist and teacher who has won the PEN/Joyce Osterweil Award and been nominated for the Los Angeles Times Book Prize.  His other books include The Ticking Is The Bomb, The Captain Asks For A Show Of Hands, Some Ether, Blind Huber and A Note Slipped Under The Door (W/ Shirley McPhillips).
Subterranean Books is giving away three prize packs to celebrate the release of the film. Each pack contains Flynn's paperback memoir plus a free run of engagment pass for two people to any Monday-Thursday screening of Being Flynn at The Tivoli Theatre.
All you need to do is be one of the first three people to repsond to this blog's posting on our Facebook site.  We will select the winners who will be notifed via Facebook. Winners will then need to come by the store to claim their prizes.
Getting a free book and a free film on us is a pretty great deal. However, if you want to buy this book or any of Nick Flynn's other titles from us you can do so as well coming by the store or visitng here:
If you want more info on the film visit the Landmark Theatres website: http://www.landmarktheatres.com/Films/films_frameset.asp?id=113922
One response so far
One Response to "Being Flynn Giveaway At Subterranean Books"