Mar 22 2012
Unless you have been hiding under a rock you may have noticed that the film adaption of Suzanne Collins' The Hunger Games is in theaters. It has been a pretty big deal in the media and also in the book world as well.
This 2008 young adult novel and its follow-up titles have been big sellers for us at the store this month. As booksellers we get excited when a book gets some hustle to it and sells like crazy. There's the fun of getting the book on the shelves and into the hands of customers. There's also the joy of knowing we have a book that, in some cases, someone went all over town looking for. Plus, there is the joy of having the money come in which is, sadly, an essential part of the business. But the best part is that people are buying books and reading.
As for the book itself, it is set in the post-apocalyptic country of Panem where peace is kept by having an annual 'tribute' which collects warriors from 12 districts and throws them into a nihilistic gladiator arena of sorts where the participants must hunt, track and kill each other to survive.  It's a very esoteric substitution for war that has been glossed over by the government and media and turned into entertainment.  However, when Katniss Everdeen volunteers for the Games all hell breaks loose.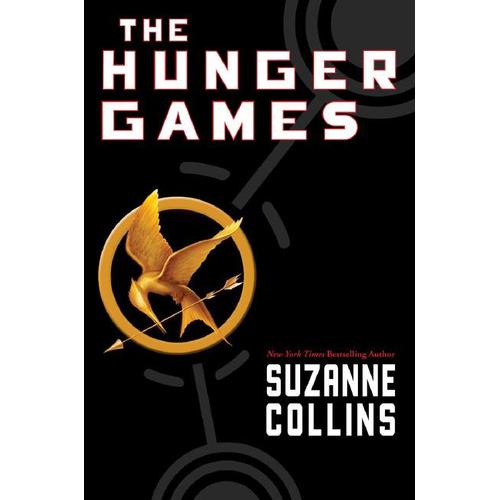 One of the reasons for the success of The Hunger Games is that it touches on a lot of ideas. There are cultural and social clashes, the morality of killing for sport, sexual politics, regular sneaky politics, the ideas of family and community. Collins also tackles poverty, oppression, war while turning the notion of self-preservation on its ear. She's also thrown in a wacky love triangle just to make things interesting.
Collins has also taken the Orwellian idea of Big Brother and merged it with our culture's strange predilection for reality TV.  It's a book with  a lot going on in it. We've found that kids and adults both are devouring the series and enjoying the books. It has a lot of intrigue, action and is written at a breakneck pace that makes it a pretty quick read.
I was told by a customer the other day that these books are not the next Twilight or Harry Potter series that get charged by Hollywood and turned into a pop culture event. It was pointed out to me that The Hunger Games, Catching Fire and Mockingjay are, like lots of other great fiction, books that have a soul that enables them to resonate with the times they mirror when they were published. 
Check out our website for all of your Hunger Games needs.
Happy Hunger Games! And may the odds be ever in your favor!
No responses yet