Apr 12 2012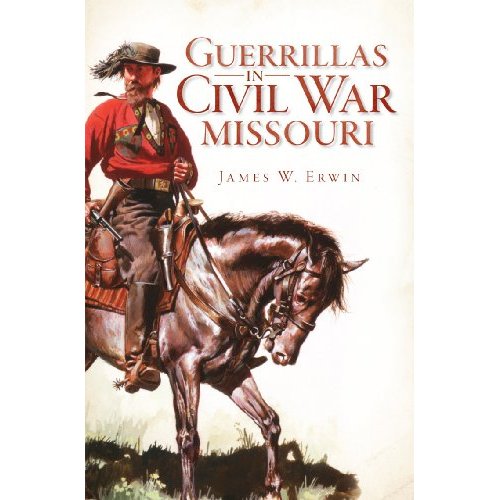 Subterranean Books is very excited to welcome James W. Erwin to the University City Library for a signing of his book, Guerillas In Civil War Missouri  on Thursday, April 26 at 7:00PM.
In his book Erwin has taken a forgotten chapter of Missouri's difficult history during the Civil War and brought it to life in vivid detail. Beginning with the Kansas-Nebraska Act and how its passage rippled through our state through the bloody Centralia Massacre and winding up with the postwar violence that devasted the state, Erwin has richly rescued this turbulent chapter of our history from fading away into obscurity.
Like any good novel Guerillas In Civil War Missouri has its own share of great characters. Athough this is a work of nonfiction you could not ask for a more colorful or intereresting group of characters. Joseph C. Porter, 'Bloody Bill' Anderson,  General Thomas Ewing Jr, the soon-to-be-even-more- famous Frank and Jesse James and of course Willaim C. Quantrill (the most famous guerilla leader in the State's history) all leap from the pages, larger then life. Erwin is dead on in that in order to understand the impact of guerilla warfare in Missouri you must also know who these men were and what drove them. 
A lot of people do not know what a bloody and dangerous place Missouri was during the Civil War. Its strategic location made it not only a coveted prize but also a hotbed for spies, recruting and especially guerilla warfare on each side.
As Erwin points out,  guerilla warfare in the Missouri was more then a series of random nasty skirmishes or petty raids. It was, in its own way, an ugly, bloody theater of the American Civil War. 
What: James W. Erwin Book Signing
When: April 26, 7:00pm
Where: University City Library (6701 Delmar Blvd.)
This event is free and open to the public.  Subterranean Books will have copies of Mr. Erwin's book for sale at the event.
Missouri State Representative Rory Ellinger will introduce Mr. Erwin at the event.
For more information call (314) 862-6100.
No responses yet